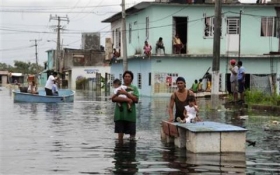 'At least 18 people were killed in Guatemala on Saturday, including a dozen on a bus that was buried in a landslide, as heavy rains lashed the Central American nation and southern Mexico. A dozen people died when the bus they were traveling on was suddenly engulfed by mud around 8 a.m. on the Inter-American highway 50 miles outside of the Guatemalan capital, emergency workers said. Another six people were killed in separate incidents, Guatemalan President Alvaro Colom told reporters.' -Reuters
These deadly floods look to continue to rage through Guatemala and may head further into Mexico, according to local weather stations.
So many deaths are disappointing to see as we continue to see death around Central America, especially from flooding and earthquakes, etc. The country's emergency services are going to need to kick in soon and start working quick. We, like the author of the original article, need to be anthropocentric as well as technocentric, using technology to solve our problems while still caring for the environment AND people.
UPDATE: We now have sources claiming the death toll may be up to 36. I literally just refreshed the page and now they're saying it's 37. Government rescue services are going to have to act quickly as the death toll increases and as many as 100 lives are claimed.